MARY KOM Age, Height, Nickname, Biography, Family, marriage, Kids, Achievements, (Awards, Records)
Mary Kom is the first Indian Olympic boxer from Manipur. Her full name is Chungneijang Mary Kom Hmangte means prosperous in her local dialect. She was born on March 1st, 1983. Her nickname is magnificent Mary. She is the only woman to achieve the six-time record in World Amateur Boxing Champion. Mary Kom is the only woman boxer to have won a medal in each one of the seven world championships.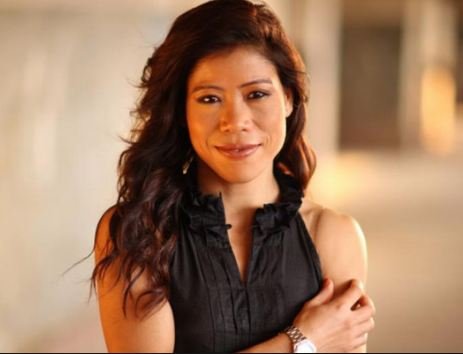 Currently, she is ranked in no 4th in (aiba) International boxing association (in 2018). Mary Kom is an achiever in the real sense and an inspiration for millions of women she is the recipient of Arjuna Award Padmashri and many great honors'. Her struggles and achievements will keep inspiring. She is an epitome of the fact, that hard work, passion, talent and courage to perceive ones dreams always receive support and opportunities.
Other Related Post:
Early Life
Mary Kom parents, family background, school life, and her first coach
Mary Kom was born in Kangathei village, Moirang Lamkhai inChurachandpur district of rural Manipur in eastern India. Both her father and mother names Mangte Tonpa Kom and Mangte Akham Kom were tenant farmers who worked in jhum fields. She has a younger sister and a brother.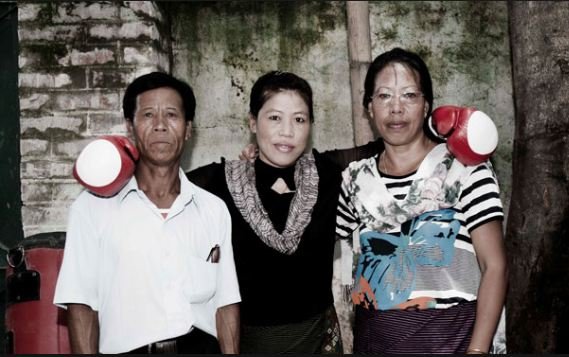 She came from poor family and grew up in the humble surrounding. Her father was a wrestler in his younger days. Kom in her school life used to participate in all types of sports including volleyball, football, and athletics.
Mary Kom Studies
At the primary level, Mary Kom went to loktak Christian model high school where she studied up to class VI standard before moving on to St. Xavier Catholic School. However, she quit studies before completing schooling. then she has done her matrics from NIOS, Imphal, and graduation from Churachandpur College.
Dingko Singh inspired her to switch from athletics to boxing in 2000. She started taking training under her first coach K. Kosana Meitei in Imphal. After she trained under the Manipur State Boxing Coach M. Narjit Singh, at Khuman Lampak, Imphal.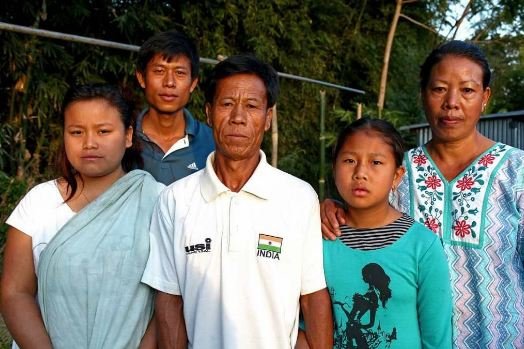 Kom kept it a secret from her father that she is taking training for wrestling through her father himself an ex-wrestler, as he was concerned that boxing would hurt Kom'sface and spoil her chances of marriage.
However, he learned of it when Kom'sphoto appeared in a newspaper after she won the state boxing championship in2000. After three years, her father started to support Kom's activity in boxing as he grew convinced of her love of boxing.
Personal Life
Mary Kom Love story, husband, Married life, children
KarungOnkholer (Onler) is the husband of Mary Kom. In the year 2000, Mary Kom was traveling by train to Bangalore and thereafter to Delhi for a sports meet. She had locked her luggage with chain and slept at night. When she woke up in the morning she realized that she had lost her luggage and her passport and all other important documents.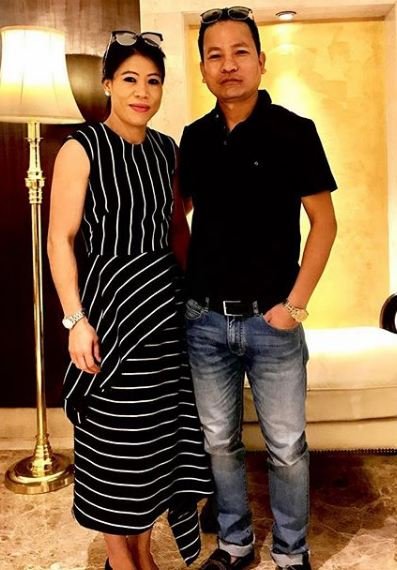 Mary Kom News
In New Delhi on her way to the National Games in Punjab she met onkholer. He was a studying law at Delhi University. And also he was the president for North East student body association. Onkholer helped MaryKom about all this matter. They became friends and started Dating each other.They got married in the year 2005. They are blessed with 3 sons: twinsRechungvar and Khupneivar (born in 2007),[73] and son Prince (born in May2013).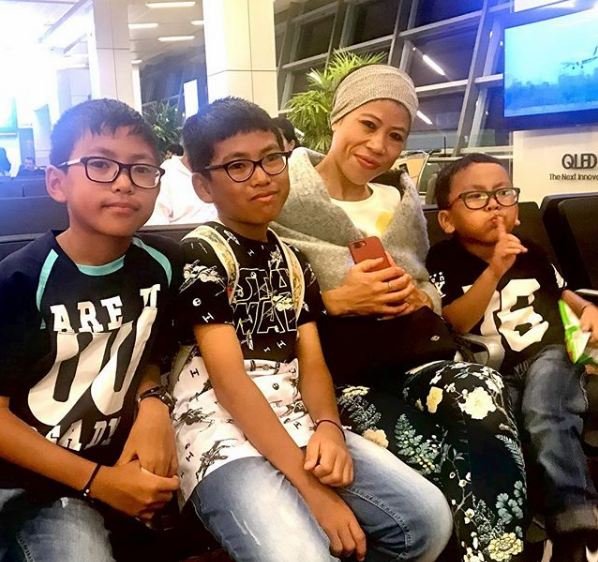 Mary Kom Movie
Her autobiography, Unbreakable, was co-authored by Dina Serto and published by HarperCollins which is one of the world's largest publishing company in late2013. This autobiography was released by Sushmita sen,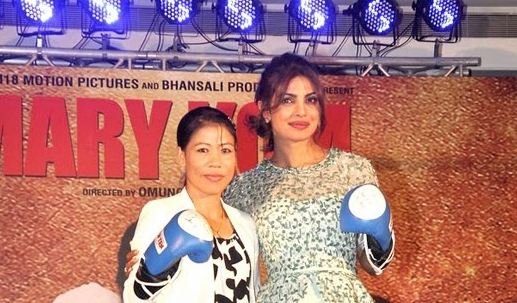 Mary Kom biographical movie came in the year 2014, Priyanka Chopra Played the role of Mary Kom. The movie is directed by Omung Kumar and Produced by Sanjayleela Bhansali. It was released on 5 September 2014.
Mary Kom Hobbies / Activities
Kom is an activist for Animal Rights, and supporter of PETA India, starring in an ad to call to stop the use of elephants in circuses. "Circuses are cruel places for animals where they are beaten and tortured. As a mother, I can imagine what animals go through when their children are taken away from them to forcefully perform in circuses.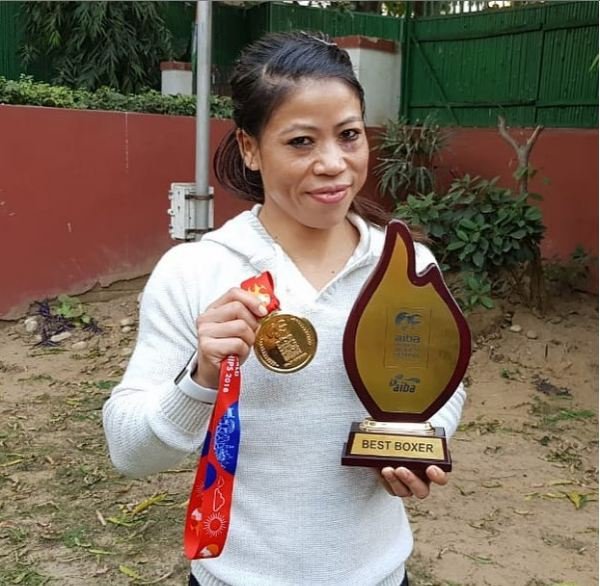 Kom has also backed PETA India's humane education campaign, Compassionate Citizen. She wrote a letter to the education ministers of states and union territories across India requesting that the programme be incorporated into official school curriculums.
Mary Kom Instagram: https://www.instagram.com/mcmary.kom/
Mary Kom Facebook: https://www.facebook.com/MCMaryKomofficial/
Mary Kom Twitter: https://twitter.com/MangteC
Other Related Post:
Achievements
| | | | |
| --- | --- | --- | --- |
| YEAR | PLACE | WEIGHT | COMPETITION |
| 2001 | 2 | 48 | AIBA Women's World Championships |
| 2002 | 1 | 45 | AIBA Women's World Championships |
| 2002 | 1 | 45 | Witch cup |
| 2003 | 1 | 46 | Asian Women's Championships |
| 2004 | 1 | 41 | Women's World Cup |
| 2005 | 1 | 46 | Asian Women's Championships |
| 2005 | 1 | 46 | AIBA Women's World Championship |
| 2006 | 1 | 46 | AIBA Women's World Championship |
| 2006 | 1 | 46 | Venus Women's Box Cup |
| 2008 | 1 | 46 | AIBA Women's World Championship |
| 2008 | 2 | 46 | Asian Women's Championships |
| 2009 | 1 | 46 | Asian Indoor Games |
| 2010 | 1 | 46 | AIBA Women's World Championshi |
| 2010 | 1 | 46 | Asian Women's Championships |
| 2010 | 3 | 51 | Asian Games |
| 2011 | 1 | 48 | Asian Women's Cup |
| 2012 | 1 | 41 | Asian Women's Championships |
| 2012 | 3 | 51 | Summer Olympics |
| 2014 | 1 | 51 | Asian games |
| 2017 | 1 | 48 | Asian Women's Championships |
| 2018 | 1 | 45-46 | Common Wealth Games |