GEETA KUMARI PHOGAT
She is from Balali village in Bhiwani district from the state of Haryana, born on 15th December 1988. Her father a former wrestler named Mahavir Singh Phogat, a Dhrona Charya Award achiever, who played a major role in achieving gold medal to Geeta, as a coach.
Geeta is a wrestler and won first ever gold medal in wrestling at commonwealth games (CWG) in the year 2010. She is the first women from India who have qualified for the Olympic summer games and became an inspiration to many women. 
Other Related Post:
PERSONAL LIFE
Geeta who comes from a village Balali, daughter of Mahavir Singh Phogat, a famous wrestler at his times achieved Dhrona Charya Award. Her mother name is Daya Shobha. They have given birth to five children, among them, four are daughters and one Son. Geeta is the elder, Babita the second daughter, Ritu the third daughter, Sangeetha the younger daughter and they have one and only son named Dhushyanth.
Geeta Phogat Coach
Mahavir Singh Phogat the famous wrestler at his times achieved many awards. He thought this should not be stopped by himself and to be continued to his next generation.
He thought that he will give training to his son, and make him a champion in wrestling, but all his imaginations were not becoming true in his real life, because his wife Shobha delivered a baby child in their first birth. She delivered four times as a baby child, but Mahaveer Singh Phogat needs a son to fulfil his desire as a wrestler champ. Finally they have a son in fifth delivery. He felt very happy by seeing his son.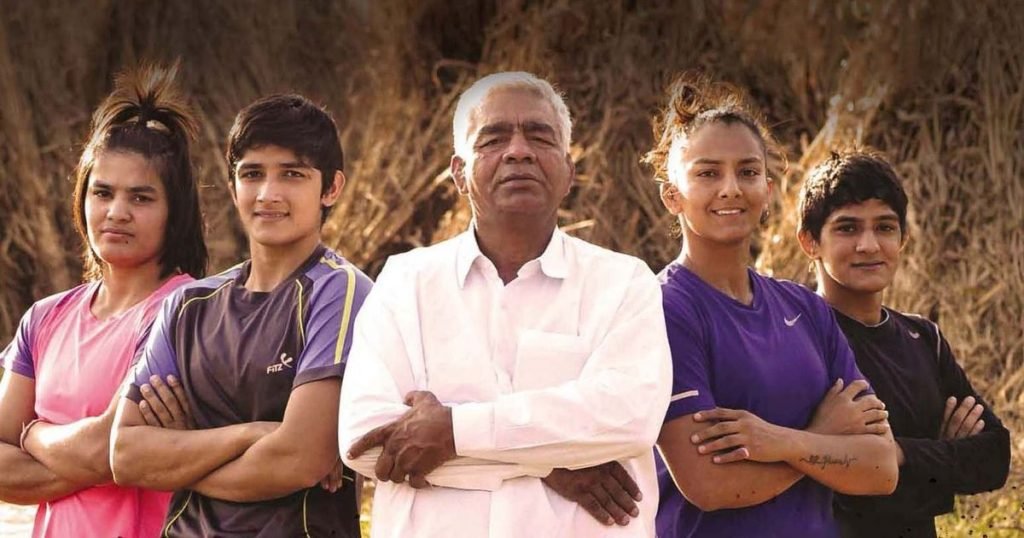 Mahavir Singh Phogat
A few years later when their Children were growing up, he got an idea to make her daughter a champion in wrestling. He decided that he will make his elder daughter Geeta to make the champion in wrestling. He called her and asked whether she was interested in wrestling or not. She gave a positive response to her dad (Mahaveer Singh Phogat), in that way she started her wrestling field.
After her arrival into the wrestling field, as all we know that she created many records on that track, made Indians proud and stood as inspiration for many women through her achievements, she is the first women from India to participate in Olympics in wrestling field.
Mahaveer Singh Phogat who is a well-known wrestler during his period, a coach and a father of Geeta. While their practice time of wrestling, he never treated her (Geeta) as a daughter, he just treated her like a student and became himself as a best coach and father. He achieved all his dreams what he has thought before and felt very happy, enjoyed with the success of her daughter as a parent and coach.
He didn't stop this only with his elder daughter Geeta, he also gave training to her sister Babitha kumara and her cousin Vinesh Phogat, they were also gold medalists in wrestling in 2014. Another younger sister of Geeta Phogat, Rituphogat too an international wrestler and a gold medalist in the year 2016, her younger sister Sangita Phogat is also a wrestler.
With that three of Mahaveer's daughters achieved a gold medal in wrestling under the coach of former wrestler and Dhronacharya Award winner and father of three of them, created a world record of winning continuously three gold medals in wrestling.
Geeta Phogat Career
2009 COMMONWEALTH WRESTLING CHAMPIONSHIP
In the year2009 Geeta Phogat participated for the first time in wrestling, which is held at Jalandhar, Punjab between 19 and 21 of December and won gold medal in commonwealth wrestling championship.
2010 COMMONWEALTH GAMES (CWG)
In the year 2010 she created a record in the Indian history that had never been created before. She is the first women from India to participate in wrestling and achieved gold medal by beating Australian lady Emily bested, with the score of 1-0, 7-0.
After winning this auspicious award, she became the inspirational women to all over the world, Mahaveer who is a father and coach felt very happy with her success in wrestling. In the same way, many have started taking autograph, tv channels rushed at her, many of channels have waited to take an interview from her, to express her happiness and struggle of her success.
2012 SUMMER OLYMPICS
Geeta Phogatwon a gold medal in the wrestling FILA Asian Olympic Qualification Tournament which was conducted at Almaty, Kazakstan in the year 2012 of April month.
She took training at Netaji Subhash National institute of sports(NSNIS) under the guidance of coach O.P Yadav and a foreign expert Ran Dobo.
But she didn't went to the final stage. She was beaten in her opening fight by Canadian lady Tonya Veerbeek though Geeta struggled a lot to face her but remain impossible, she received a bronze medal in that wrestling, and the Canadian lady went for the final round.
2012 WORLD WRESTLING CHAMPIONSHIPS
In the year 2012 world wrestling championship which were held at Canada, Geeta Phogat won Bronze Medal .
In the first round Phogat faced Maria Gurova of Russia, beating by her with the score of 3:1 she played well in the first round as every Indian expected that this time Geeta will definitely go to final round and remain as winner, but unexpectedly she lost in next round
2012 ASIAN WRESTLING CHAMPIONSHIPS
In the year2012, in the first round of 2012 Asian wrestling Championships, Phogat lost with her opposite contestant Kanako Murata who is from the country of Japan, sokanaka Murata entered the final round.
Phogat got a chance to participate in the bronze medal round and stood as a winner in that and won Bronze medal in the 55kg category, by beating the lady Sumiya Erdenechimeg who is from the country Mangolia.
Other Related Post:
GEETA PHOGAT HUSBAND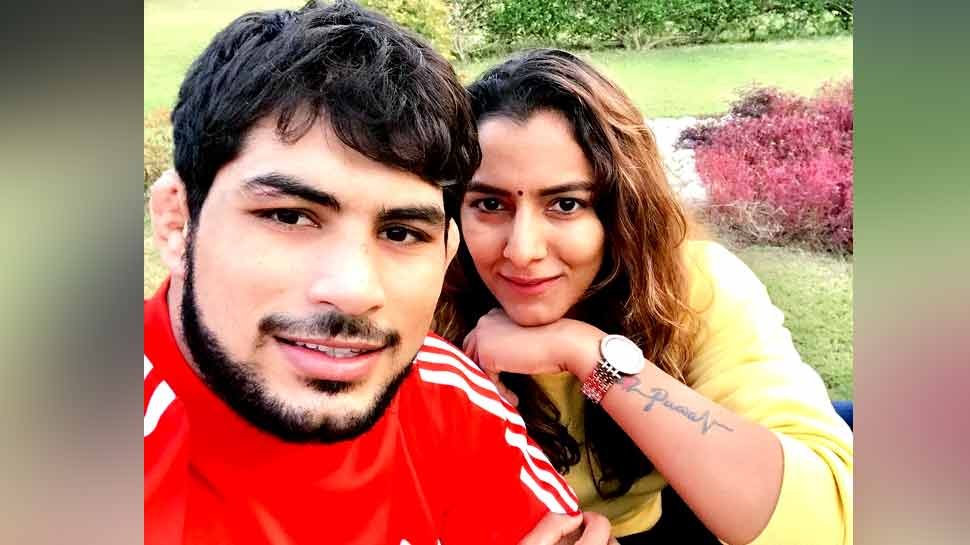 Pawan Kumar, who is also known as Pawan Saroha is a Indian Free style wrestler. He and Geeta Phogat got married on 20th November 2016.