Ajit Anantrao Pawar is an Indian politician, the former deputy chief minister of Maharashtra and the Current MLA from the Baramati constituency of the Maharashtra Legislative Assembly.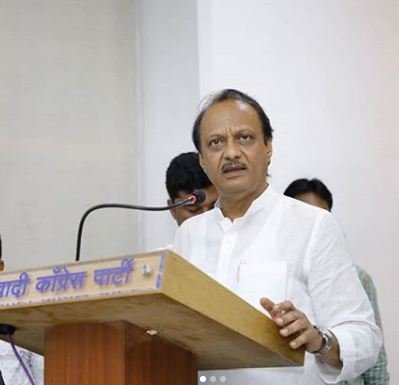 He belongs to the National Congress Party (NYC) in Maharashtra. He is popularly known as 'Dada' by his followers and close ones.
PERSONAL LIFE
Ajit Pawar was born on 22 July 1959 (at present he 60 years old). He was born in Deolali Pravare, Bombay State, India in his grandparent's place. He was born to Anantrao who is the elder brother of Sharad Pawar.
He hails from the village of Katevadi in Baramati Taluka, Pune district. Ajit Pawar's father Anantrao Pawar used to work at Rajkalamal Studios of V Shantaram.
You may also like>>>
Ajit Pawar pursued his education from Deolali Pravara. He is educated at the secondary school level. As his father expired he had to take care of the family so he had to leave his formal education.
He holds his secondary education certificate (SSC) from Maharashtra Government. Anatrao Pawar is the eldest brother of Sharad Pawar who is the president of the National Congress Party. Ajit Pawar is the nephew of Sharad Pawar.
Ajit Pawar is married to Sunetra Patil and they have two sons, Jay Pawar and Parth Pawar. Sunetra Pawar is the sister of former minister of Maharashtra
Padamsinh Patil, is a former member of 15th Lok Sabha, the lower house of parliament of India. He stays in Sahyog, Baramati, Pune, Maharashtra, India.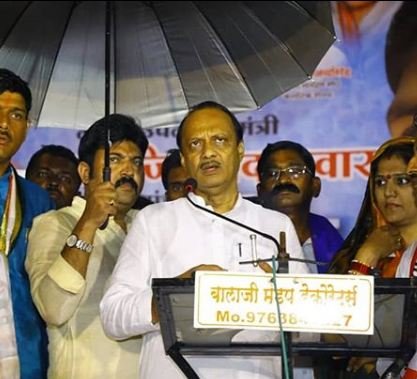 POLITICAL CAREER OF AJIT PAWAR
Ajit Pawar started his political career in 1982 in his early 20s, He got elected to the board of a cooperative sugar factory. Later in the year 1991, he became the Pune District Cooperative Bank.
He was in this post for 16 years. Ajit Pawar also got elected to the Lok sabha in 1991 from the Baramati constitution but he vacated the seat for his uncle Sharad Pawar. Sharad Pawar was the defense minister of India then i.e. in P.V. Narasimha Rao government.
After this, he got elected to the Maharashtra Assembly and was the Minister of State Agriculture and Power in the same year. He was the Minister from June 1991-November 1992.
He again got re-elected for the same post in the years 1995,1999,2004,2009 and 2014. Later he became Minister of State for soil conservation, power, and planning (November 1992-February 1993) in Sudhakar Rao Naik's government.
In 1991 when Sharad Pawar came into power as chief minister, Ajit was promoted to a cabinet minister. He was first promoted as Irrigation Department (October 1999- December 2003) in Vilas Rao Deshmukh's government.
He was given additional charges of the Rural Development (December 2003 – October 2004) in Sushil Kumar Shinde's government. He also became the Guardian minister of Pune district 2004 and was in charge till 2014.
He later became the Deputy Chief Minister of Maharashtra state from 23rd to 26th November 2019 for less than 80 hours. He is the 9th Deputy Chief Minister of Maharashtra. Many of the people regard him as the "Tallest leader" of NCP in Maharashtra.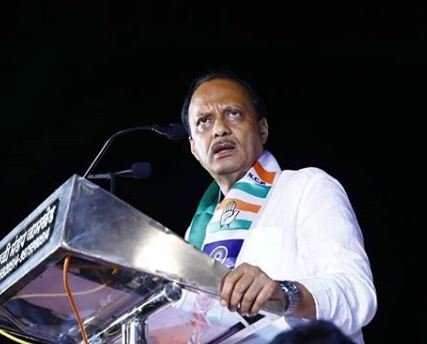 CONTROVERSIES AND ALLEGATIONS
Controversies don't seem to die down when it comes to Ajit Pawar. He has often been into corruption cases.
There are allegations that when he was the Minister of Water Resources, the Maharashtra Krishna Valley Development Corporation (MKVDC) leased 141.15 (348.8 acres) to Lavasa in August 2002, the lease between MKVDC and Lavasa were leased below the market rate.
He also faced allegation for providing unwarranted help in the development of Lavasa Lake City Project.
In September 2012 there were accusations that he had miscalculations of fund amount up to 70,000 crores.
He told election commission that he had more than 3 crores financial assets. Later in April 2013, Ajit made a controversial remark during the drought crisis in Maharashtra.
In 2014, while campaigning for his cousin Supriya Sule, he threatened the villagers in one of the villages in Baramati constituency. If they won't vote for her then he will cut off the water supply for them.
Later he apologized for his acts after a lot of pressure from media. He has been in many different cases and faced many setbacks Even Mumbai police seized a car allegedly used by him stashed with Rs 4.85 lakh cash.
SOCIAL MEDIA
Ajit Pawar is on social media like Face book, YouTube, Instagram and Twitter. He has 213.1k followers on Instagram.
Related Searches: Ajit Pawar son, Ajit Pawar wife, Ajit Pawar news, Ajit Pawar contact number