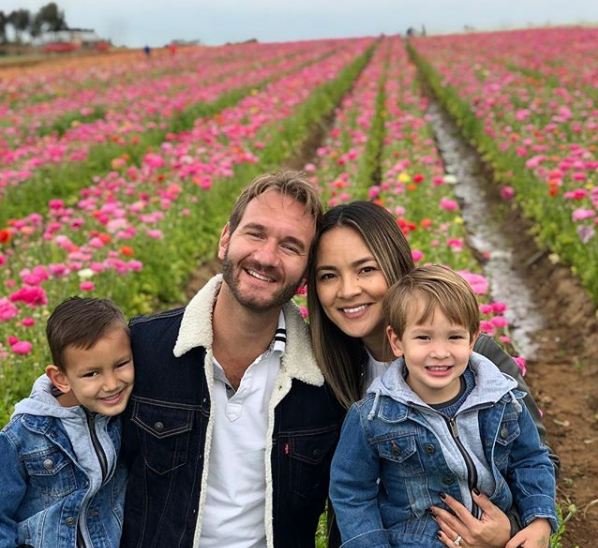 Nick Vujicic Biography
| | |
| --- | --- |
| Real Name | Nick Vujicic |
| Nickname | Nick |
| Occupation | evangelist and motivational speaker |
| Birthplace | Melbourne, Australia |
| Nationality | Australian |
| Age | 36 Years (as on March 2019) |
| Date of Birth | 04-Dec-82 |
| Hometown | Melbourne |
| Sun Sign | Sagittarius |
| Zodiac Sign | Scorpio |
| Graduated from | Griffith University |
| Marital Status | Married |
| Children | 4 |
| Net worth (2017) | $500 thousand. |
Nick Vujicic is an evangelist and a motivational speaker as well. He was born in Melbourne, Australia, in 1982 to Dušanka and Borislav Vujičić. His parents are Serbian immigrants from Yugoslavia. He was born with a rare disorder, tetra-amelia syndrome which means 'absence of arms and legs'.
About Nick Vujicic
It is mentioned in his auto nick vujicic biography, that his mother refused to accept him. Later, they realized that it was God's Plan for their son and accepted.
He calls one of his feet as "chicken drumstick" due of its shape. An operation was performed and separated his toes so that he could use them as fingers to turn a page, grab, or do other things.
Nick Vujicic was grown up in Melbourne, Australia, In the early stages of his life, Nick struggled mentally, emotionally, and physically. He was Bullied at school. Once Nick attempted suicide when he was 10 years old.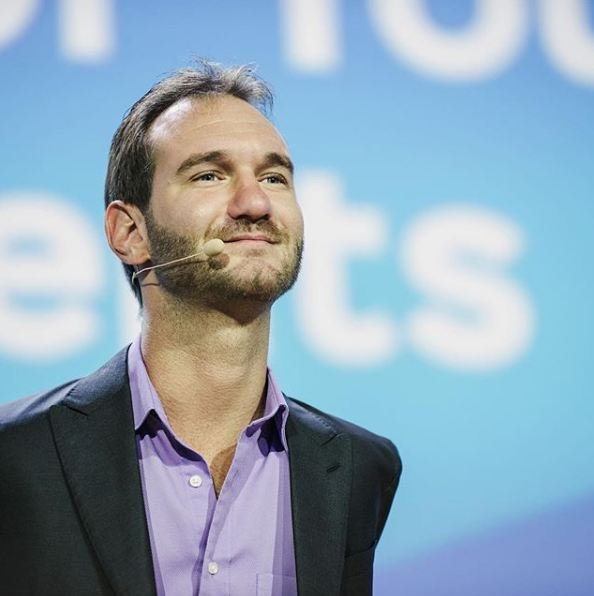 Career
Vujicic founded Life Without Limbs, an international non-profit organisation and ministry 2005. He has started a secular motivational speaking company named Attitude is Altitude in the year 2007.
motivational speaker without limbs Nick acted in the short film The Butterfly Circus. Vujicic was awarded the Best Actor in a Short Film for his starring performance as Will. He released a music video by the name "Something More" in the year 2010.
Nick Vujicic Facts
When Nick inspirational speaker, was seventeen, he started delivering speeches at his prayer group. At the age of 2, Vujicic graduated from Griffith University with a Bachelor of Commerce degree, with a double major in financial planning and accountancy.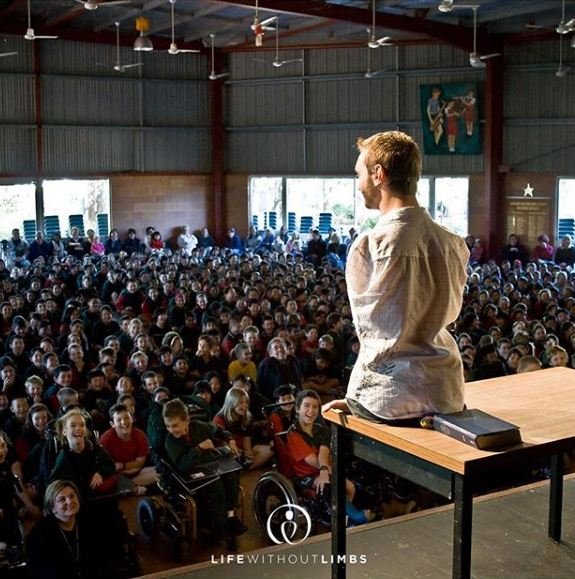 Nick has also published many books including Life Without Limits. Inspiration of a Ridiculously Good Life, Unstoppable: The Incredible Power of Faith in Action, Stand Strong, and many more.
He mainly addresses school children, adults, and working professionals.
Nick Vujicic, motivational speaker born without limbs has also delivered speeches at various churches across the globe. Nick has travelled more than sixty countries around the world, and has touched the lives of millions.
You may also like biography and lifestyle of Super Woman Lilly Singh
Nick Vujicic, the motivational speaker without limbs is an evangelist and also known for his organization, 'Life Without Limbs', which hosts events and presents talks on courage and faith in God.
In 2010, Nick Vujicic's, Australian handicapped motivational speaker, first book, Life Without Limits: Inspiration for a Ridiculously Good Life, was published by Random House. This book has been translated into over 30 languages.
Kanae Miyahara and Children
In 9 March 2002, Nick Vujicic moved to California. In 2008 in McKinney, Texas, Dallas. He met Kanae Miyahara. Nick proposed Kanae Miyahara. The couple married in February 2012 on Valentine's day. They reside in their house in South California.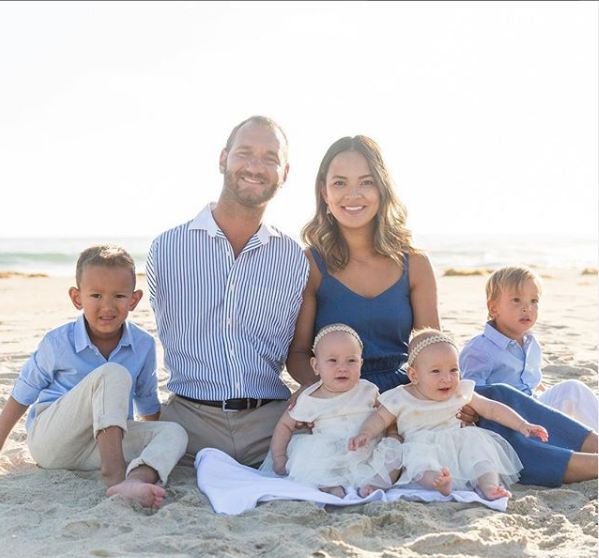 The couple has four kids. Kiyoshi James Vujicic, Dejan Levi Vujicic, Olivia Mei Vujicic, and Ellie Laurel Vujicic. In a year of their marriage, In February 2013, they welcomed their first child, son named Kiyoshi. The couple next welcomed their second son, Dejan in September 2015. Their twin daughters, Olivia and Ellie, were born on 20 December 2017.
Nick Vujicic Books and Publications
Nick Vujicic New Book
Life Without Limits: Inspiration of a Ridiculously Good Life (2010)
Your Life Without Limits (2012)
Limitless: Devotions for a Ridiculously Good Life (2013)
Unstoppable: The Incredible Power of Faith in Action (2013)
The Power of Unstoppable Faith (2014)
Stand Strong (2015)
Love Without Limits (2016)
Be the Hands and Feet: Living Out God's Love for All His Children, February 13, 2018
Unknown Facts of Nick Vujicic
1. In 2011,when they were on a yacht in Santa Barbara, Nick proposed his love to Kanae. He put the ring on Kanae's finger with his mouth.
2. His first step into the business world business was when he was just 17, with a nonprofit organization named"Life without Limbs".
3. Nick can hold his breath for a longer time than any average person i.e. for two minutes, 13 seconds.
4. Things like caffeine, sugar, and alcohol hits Nick twice as hard because of having just half volume blood in his body.
5.Nick has spoken at the World Economic Forum in Davos, Switzerland In 2011.
6. Nick keeps a pair of shoes in his closet. He also believes in miracles and says one never knows what God is planning for them, anything could happen.
This is all about Nick Vujicic Biography. If you have any thing interesting about Nick Vujicic biography please let us know
Related Searches: nick vujicic biography, nick vujicic children, nick vujicic wife, nick vujicic family, nick vujicic death, nick vujicic achievements, nick vujicic youtube, nick vujicic speech, motivational speaker nick vujicic, the motivational speaker without limbs, inspirational speaker without limbs, motivational speaker born without limbs, nick inspirational speaker, motivational speaker without limbs, nick motivational speaker, nick public speaker, life without limbs book,
Latest News
Nick on Instagram posted on 13th April 2019 that "Had a rich time reconnecting with friends who have believed in me for 20 years!! John and Shari Burley who inspired confidence in God's plan for me in becoming a speaker and investing in real estate as a teenager!! Love you guys "