Anand Ahuja Biography: Who's Anand Ahuja? Anand is a typical Delhi guy who has much interest in fashion entrepreneurship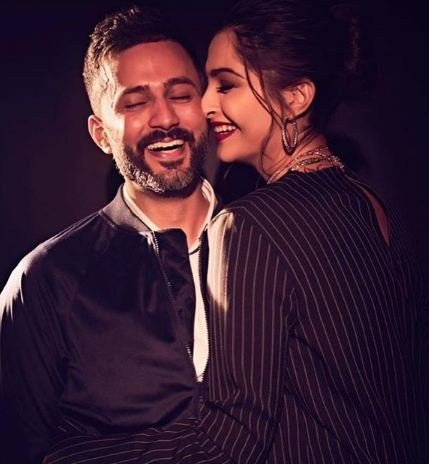 Anand Ahuja came into limelight after marrying the B Town fashion diva Sonam Kapoor. They were in a relationship and they got married recently in 2018.
Unless Sonam Kapoor's husband we don't know much about Anand. So here we give complete information, Anand Ahuja Biography Wiki, Height, Weight, Love Story, Affairs, Family, Marriage and Many More
Other Related Post:
Anand Ahuja Biography, Family, Education, Career:
Anand is a Delhi-based fashion entrepreneur who runs a fashion label called Bhane, which has a showroom in New Delhi's upscale Meherchand Market.
It won't be wrong to say that he is more known as the husband of Sonam Kapoor, rather than a successful entrepreneur. Check out Anand Ahuja Biography in detail.
Biography/ Wiki
| | |
| --- | --- |
| Name | Anand Ahuja |
| Born | 29th July 1983(35 years) in New Delhi |
| Parents | Beena Ahuja, Sunil Ahuja |
| Siblings | Amit Ahuja, Anant Ahuja |
| height | 5' 9" inches tall |
| weight | 65kgs |
| Profession | Founder of Bhane Clothing Store in the New Delhi, Managing Director of Shahi exports |
| Nationality | Indian |
| Caste | Hindu-Khatri Punjabi |
| Spouse | Sonam Kapoor |
| Favourite Sport | Basketball |
Anand Ahuja Education, Career
Anand is a highly educated entrepreneur who completed his schooling from American Embassy School, NewDelhi. He completed his Bachelor of Science, Economics, and International Relations in 2007 from The Wharton School of the University of Pennsylvania in Philadelphia, Pennsylvania, USA.
He had pursued his post-graduation in MBA from the University of Pennsylvania, Philadelphia, USA, but somehow he couldn't complete it. He did his internship with DeutscheBank and worked as a Product Manager Intern at Amazon and as an Assistant Buyer at Macy's.
On his return to India, he initially worked in the Business Development wing of ShahiExportsPvtLtd. In 2012, he started a clothing brand called Bhane. He started this clothing brand to showcase that India is not only for manufacturing but also it has some vivid designers who can design some good apparel for the people.
He does not encourage any branding details like logos or writings showing Bhane. His love and intimacy for apparel and sneakers made him build India's first multi-brand sneaker company VegNonVeg. He became so famous after knowing that he is dating and in a serious relationship with Bollywood fashion diva Sonam Kapoor.
Meeting Sonam Kapoor, Marriage
The reports are saying that Anand first met Sonam Kapoor in 2014 when he was introduced to her fashion entrepreneur, Pernia Qureshi. Firstly they both were friends and Anand had proposed to her within a few weeks after their first meeting, but Sonam took some months to accept the Anand proposal. Yes, they finally made it happen, they loved each other.
They were always open about their relationship status and pictures of Anand and Sonam together were seen at public places, family events and holidays abroad.
Finally, they both married Anand Ahuja and Sonam Kapoor tied the knot on 8 May 2018 in the mansion of Sonam's aunt Kavita Singh in Bandra, Mumbai. It was a traditional Sikh ceremony that was attended by their family members, close friends, and all Bollywood stars.
Sonam Kapoor and Anand Ahuja are one of the Bollywood celebrity couples who got married this early year. They both married in a lavish wedding style and they have been inseparable and giving some major relationship goals to every couple.
They are sharing everything on their social media platform and enjoying a lot. They are so adorable and giving some major relationship goals with their cute photos and videos.
Anand Ahuja Networth
Anand Ahuja is well known as Sonam Kapoor's husband, but he is an Entrepreneur who has unique knowledge regarding businesses as he has been brought up from a business class family.
Also his grandfather Harish Ahuja gives him some business tips and also his grandmother Priya Ahuja gives him tips regarding apparel designs. Anand family owns India's largest exports Shahi exports Pvt ltd.
Anand is the managing director of this exports and this earns around $450million per annum. He owns Bhane apparel label and VegNonVeg sneakers store. Also, he is the co-founder of super brands like Nike and Adidas. So until now we don't know the exact networth of anand ahuja.
Other Related Post:
Some Interesting Facts About Anand Ahuja
Anand's grandfather Harish Ahuja purchased a bungalow worth INR 173 Crores, at the elite locality of Prithviraj Road.
Despite having worth 173 Crores bungalow, he lives in the upscale Golf Links in New Delhi
Anand is an enthusiastic sports person and he loves basketball so much. He shares pictures of basketball matches more than his personal pictures.
He supports Los Angeles lakers team in basketball.
He loves to wear Nike shoes
Both Anand and Sonam has love on wearing their own clothing attire Bhane.
Anand loves wandering and his favourite and beautiful destinations are Europe and New York.
Anand and Sonam has a mutual friend named Perina Qureshi.
Also Anand loves cycling, he used to cycle on the roads of UK and USA.
Related Searches: Anand Ahuja wedding, Anand Ahuja age, Anand Ahuja height, Anand Ahuja house, Anand Ahuja networth, Anand Ahuja Sonam Kapoor, who is Anand Ahuja, Anand Ahuja wife, Anand Ahuja father